Daniel's Lawn Care
Daniel's Lawn Care is Sumter's trusted lawn care specialist, offering lawn mowing, tree trimming, mulch delivery and much more. We pride ourselves on providing prompt, friendly and high quality service along with expert workmanship. Call for a free estimate!
Lawn Care Service in Sumter, SC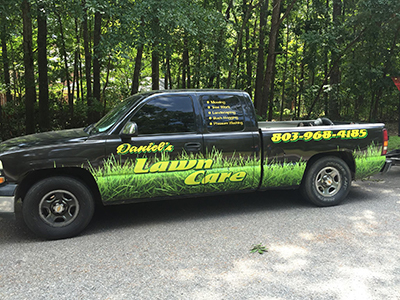 There are few things you can do to convey the pride you feel for your property quite as effectively as keeping a nicely trimmed and manicured lawn. Whether you're a homeowner or a business owner, a great lawn can do wonders for the overall look of your property. But keeping a lawn looking clean and well cared for is hard work. It takes time, it's exhausting and many people just dread the work involved.This is why lawn care in Sumter, SC is a perfect job for the pros. At Daniel's Lawn Care, we love the hard work involved in caring for our customers' green space, and we love seeing how happy and satisfied our customers are when they've hired us for lawn care in Sumter, SC.
Established in 2001, Daniel's Lawn Care has spent the past 15-plus years providing a versatile and comprehensive range of lawn care services to both residential and commercial customers. We specialize in lawn care and maintenance, offering lawn mowing, tree trimming, weeding, leaf removal, and more, and we work with our customers to establish a production schedule for keeping their properties looking their best. In addition, we're also one of the foremost lawn care service companies in Sumter, SC, offering tree trimming, tree removal sod installation, and more. If you're in need of a lawn care company that will work hard to meet your needs while staying within your budget, here are just a few of the many reasons to consider Daniel's Lawn Care:
We provide a complete range of lawn care and tree services for residential as well as commercial clients.
We've been a proud local lawn care company in Sumter, SC since 2001.
We work with our customers to establish schedules, services and budgets that meet their needs.
We're known for prompt and friendly service.
Our rates are very competitive, and we provide free quotes.
Call Us Today
To begin scheduling service, receive a free estimate or learn more about what we offer, call Daniel's Lawn Care today at (803)968-4185!

Offering Lawn Care and tree service, in the areas of:
Sumter, SC
Sumter County, SC
Florence, SC
Florence County, SC
Columbia, SC
Richland County, SC